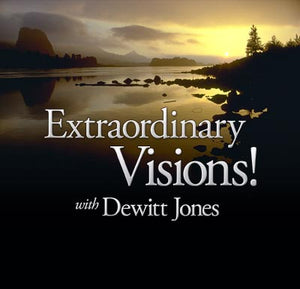 Extraordinary Visions! Keynote Speech on DVD
Regular price $20.00 Sale
In his twenty-year career with National Geographic, Dewitt Jones lived the vision of "celebrating what's right with the world" and embraced an attitude that took him to new heights both in business and in life. He found that the creative tools he employed as a photographer had even deeper application when applied directly to his personal and professional growth.
Using his own extraordinary photographs as illustrations, Dewitt weaves a visual tapestry of emotion and content. One that allows you to touch your own passion: to balance your head with your heart: and to come away inspired with your own creative potential.
For personal use only. Not to be used for training purposes. 
Watch Excerpt from Extraordinary Visions! with Dewitt Jones
Extraordinary Visions! speech on DVD with Dewitt Jones