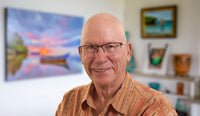 Dewitt's New VIRTUAL Keynote
Turbulent times. Uncertain futures. Never has Dewitt's positive message been more important or needed. Inspiring ideas and extraordinary images - the perfect virtual keynote.
"Your virtual keynote was a home run! It took virtual presentations to another level. The integration of great ideas, compelling stories and extraordinary images kept us all totally involved and inspired!" Joe Mariano - President, Direct Selling Association
view Promo
Dewitt's New Tedx Talk!
Are you discouraged by what's happening in the world today? THEN WATCH THIS TALK! Find out for yourself why Dewitt is considered by thousands to be one of the most inspiring speakers on the planet.
Watch video
Celebrate What's Right!
Dewitt Jones is one of America's top professional photographers. He is also one of the nation's most sought–after keynote speakers. A master of the platform, he combines stories from his years with NATIONAL GEOGRAPHIC with his extraordinary photographs to teach both creativity and vision. Each year his words and images inspire thousands to
'Celebrate What's Right With the World'!
Visit Dewitt's Gallery
Let me share with you a few of the experiences I've had with my cameras.
See Gallery